Watchlists make it easier to keep track of the companies that matter to you. With a few clicks you can be caught up on their current events in minutes.
A watchlist is comprised of several sections, each offering different insight to the companies you follow:
Companies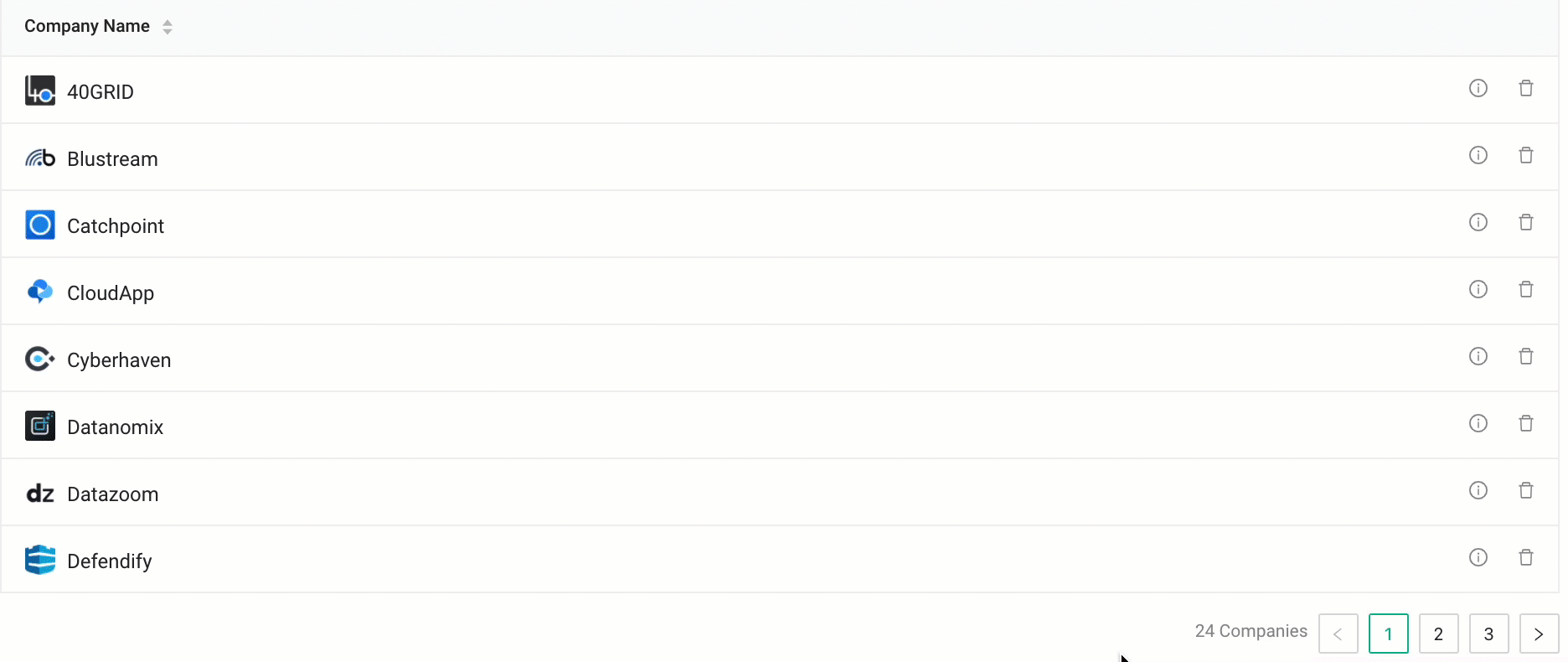 The companies section is a list of all of the companies on this specific watch list. At a glance you can see their company size based on employee count.
Hovering over the

information icon will let you see a company popover overview, including what watchlists they are a part of, their geographic location, how many employees they have and what market categories they are a part of. You can also view their social media channels by clicking on the corresponding social link.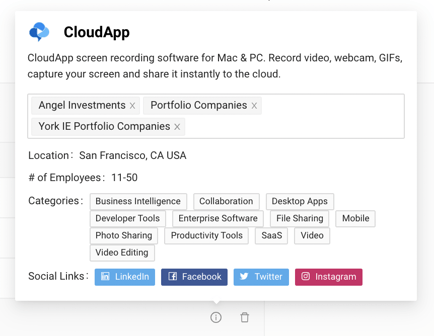 Tip - Clicking on a company name will take you to their company profile page for an in-depth look at the company. Right click and open in a new tab to keep your spot in the pagination results!
Geography

Geography allow you to quickly see the top locations for the companies comprising your watchlist.
Employees
Employee count at a glance allows for you to see how mature the companies on your watchlist are based on the number of employees they have.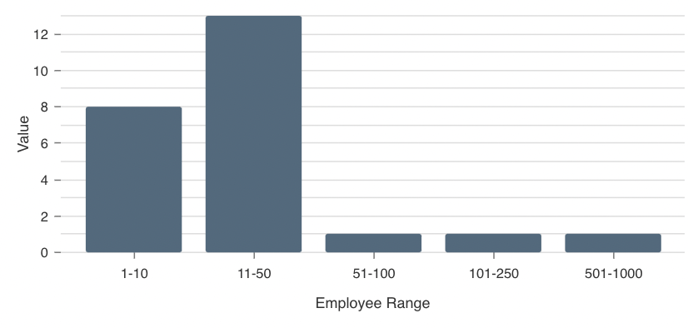 Market Categories
Categories shown here represent the most common categories companies within the watchlist fall into, allowing you to quickly see your watchlists diversity of market.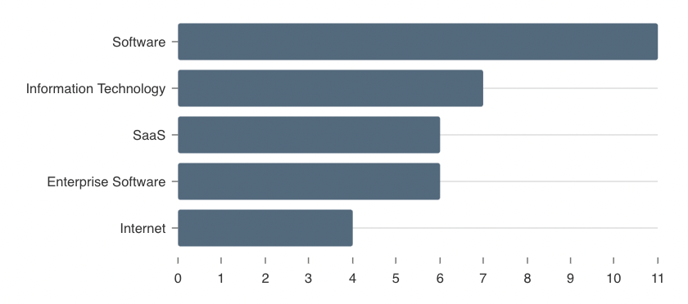 Tip - Hovering over the bar will show you how many companies fall within the category listed
Strength of Voice
Updates
The update feed provides you with recent updates of the companies on your watchlist, consisting of both owned content and earned content. Updates from your watchlists are also fed into the update feed of your Fuel dashboard.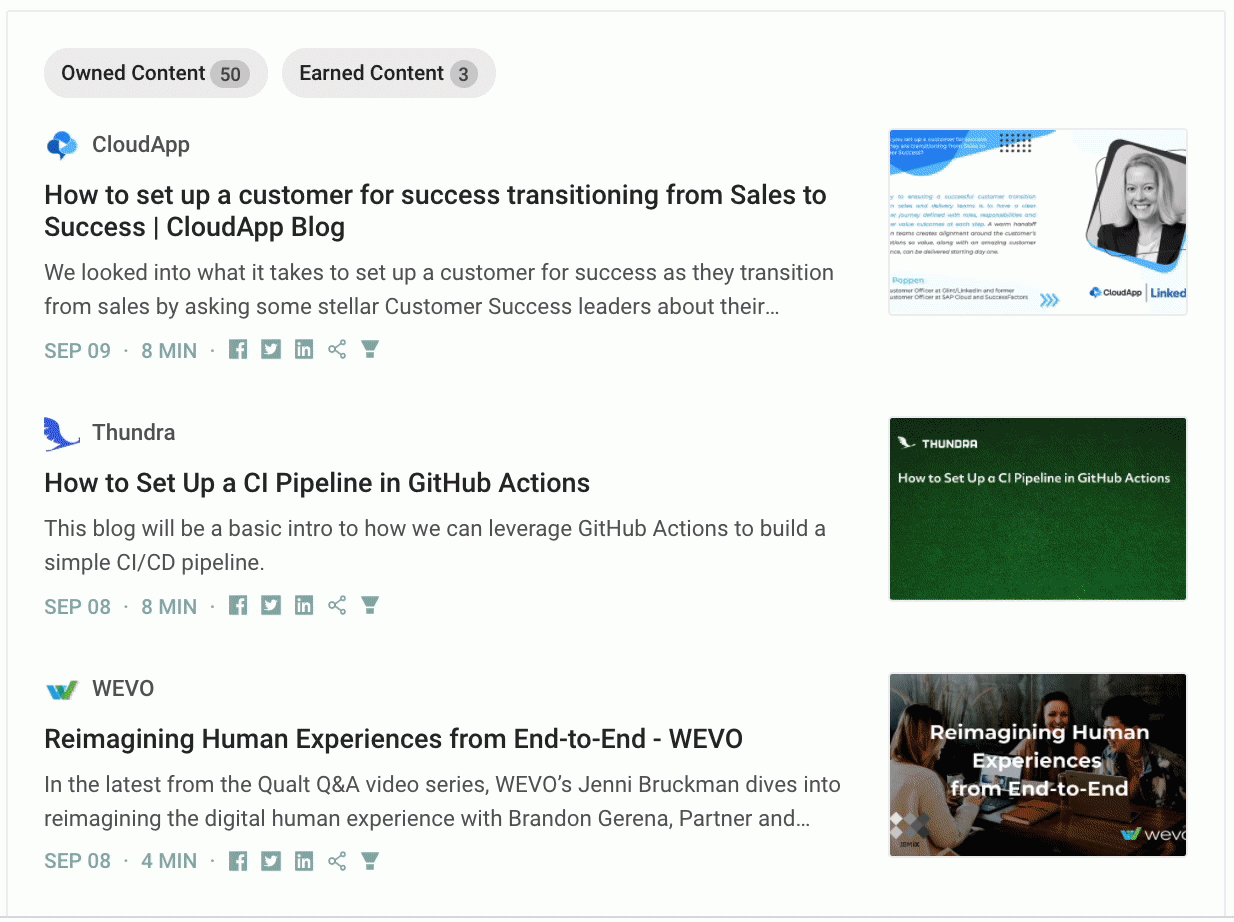 Clicking on either the image or title will take you to the article to read. You can also socially share by clicking on any of the social icons found under the article.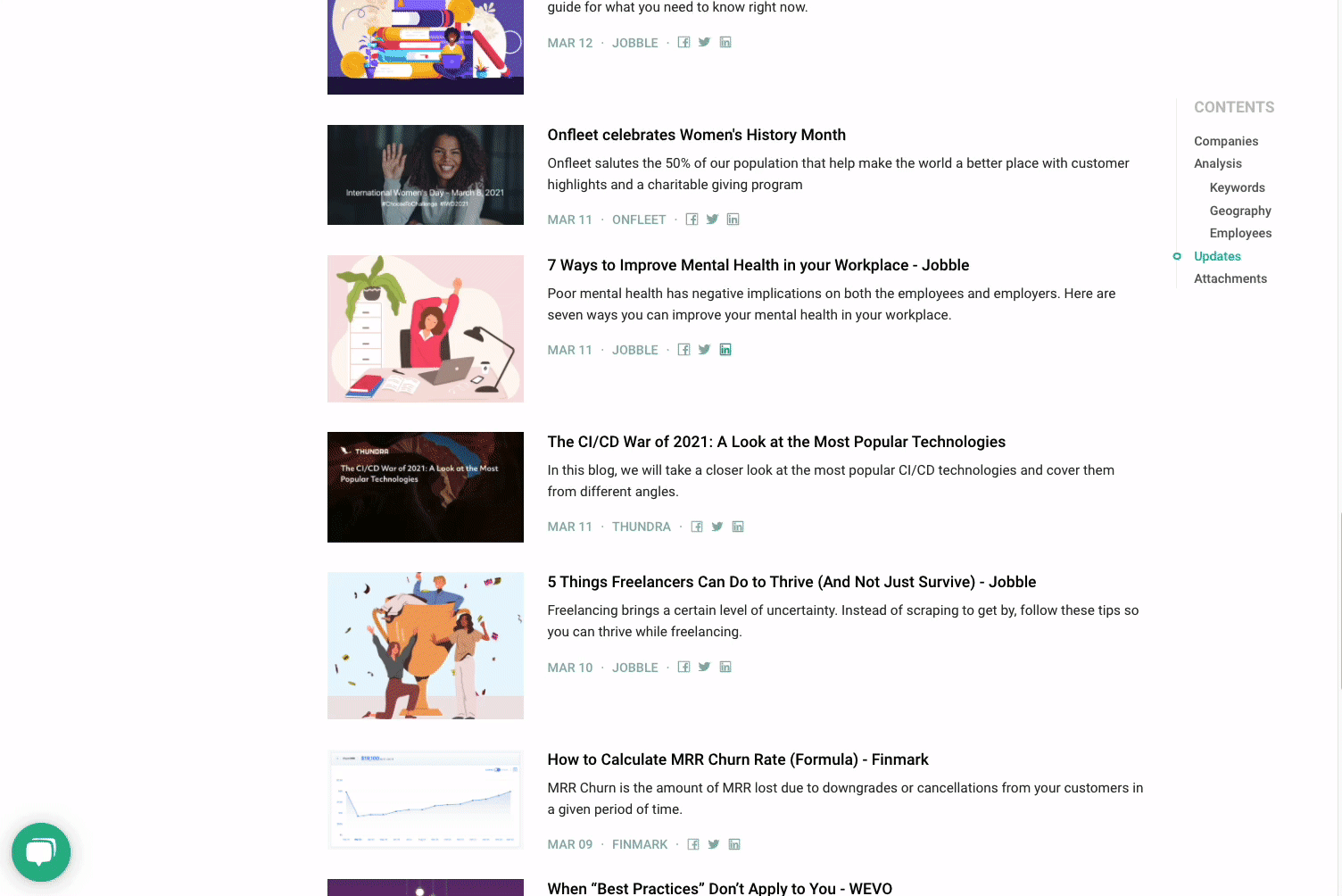 Keywords
The keywords cloud allows you to quickly see what is most often being said in relationship to the companies on your watchlist based on owned content associated with them within the past seven days. The larger the word, the more often it has been mentioned.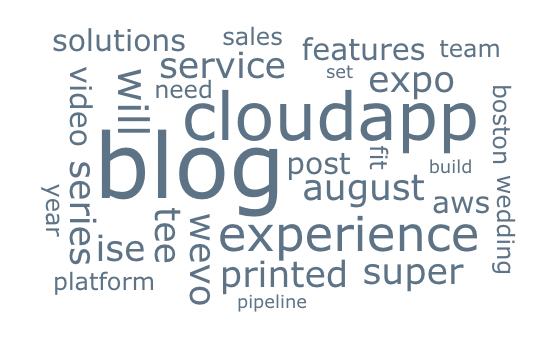 Tip - Hovering over a word will let you see exactly how many times it was mentioned.
Post History
The post history visually presents when the content from companies on your watchlist was posted during the month, allowing you to see when was the most popular (or unpopular) days to post content.

Social Audiences

With Social Audiences you can compare companies social profiles to each other on a watchlist. you can either compare the top 5 (highest number of followers on social networks combined) or all companies.
Funding
This tab allows you to see the funding history within the past year for companies in this Watchlist.

You will also find a breakdown by funding event as well.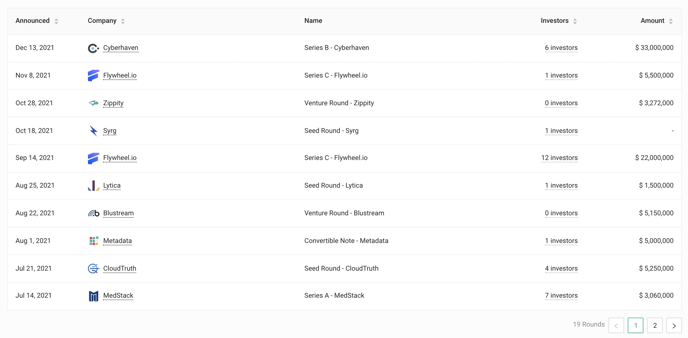 Hovering over "investors" on an event will display a popup of all investors involved.
As an alternative view, you can view who has invested in companies on a watchlist within the same tab.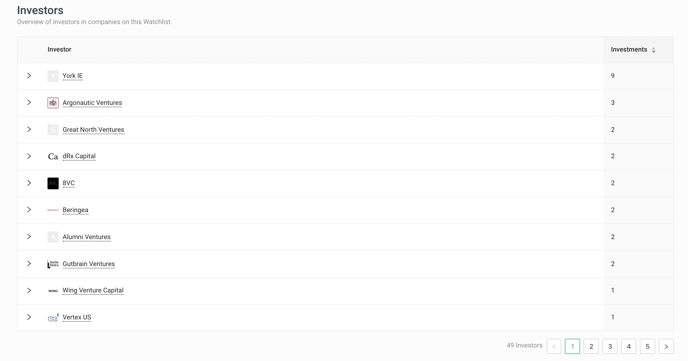 Investments and Acquisitions
If a company within a watchlist has made an investment, this data will be shown here, outlining who, the event name and the amount.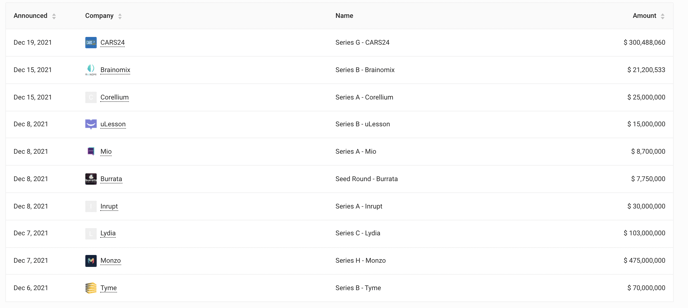 Additionally any acquisitions made by companies on the watchlist will be shown here as well.
Sharing and Notifications
Sharing
Sharing will allow for you to collaborate your watchlists with others on your watchlists. To share, click on the

Share icon in the upper right and add the email(s) for those you wish to share your watchlist with, setting the share permissions accordingly.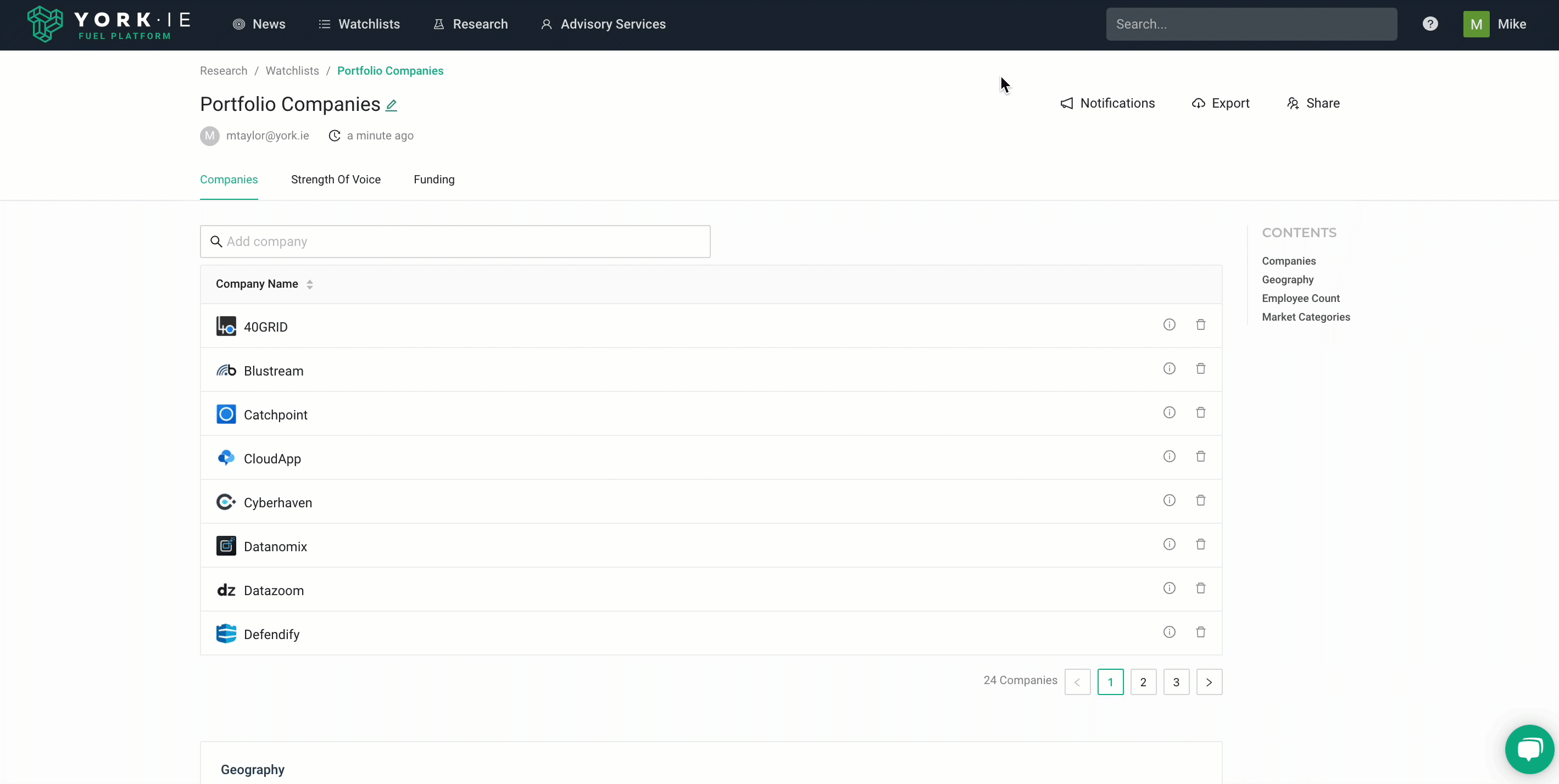 Admin - Users with this permission will be able to make changes and edits to the watchlist as if it were their own
Viewer - Allows the users with this permission to view only
Tip - To Unshare a watchlist click on the
Share in the upper and then click on Remove next to the email under Current Shares.
Notifications
Following - Checking this box will allow for company updates to be shown on your dashboard
Email Updates - Checking this box will include updates from your watchlist in a weekly email
Funding - Checking this box will enable individual funding, acquisitions and investment updates for companies on the watchlist