A company profile page summarizes its critical information, including its leadership, maturity, presence and voice.
Overview
The overview shares high level "at a glance" information pertaining to a company's operating status, its market and what categories it fits in. Links to a company's social channels are here as well allowing you to quickly learn their social voice and presence.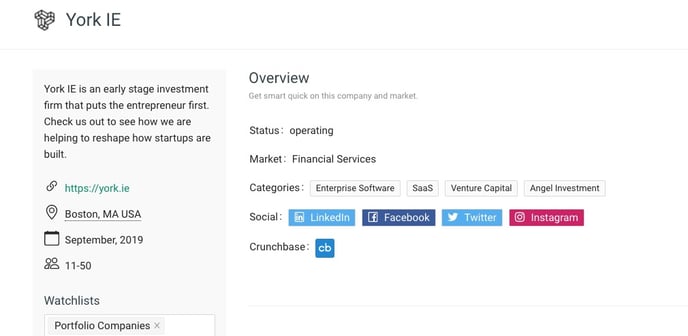 The sidebar on the left will stay with you throughout your review of a company, providing additional insight including a brief description, website, geographic location, founding date, employee headcount and any watchlists they currently are a part of.
Related Companies
You can search for related companies to the companies profile you are on by clicking the "Fetch Companies" button found in this section. Fuel will then compare a companies markets to other companies and provide you with a list of similar companies that you can then add to a watchlist or research more on.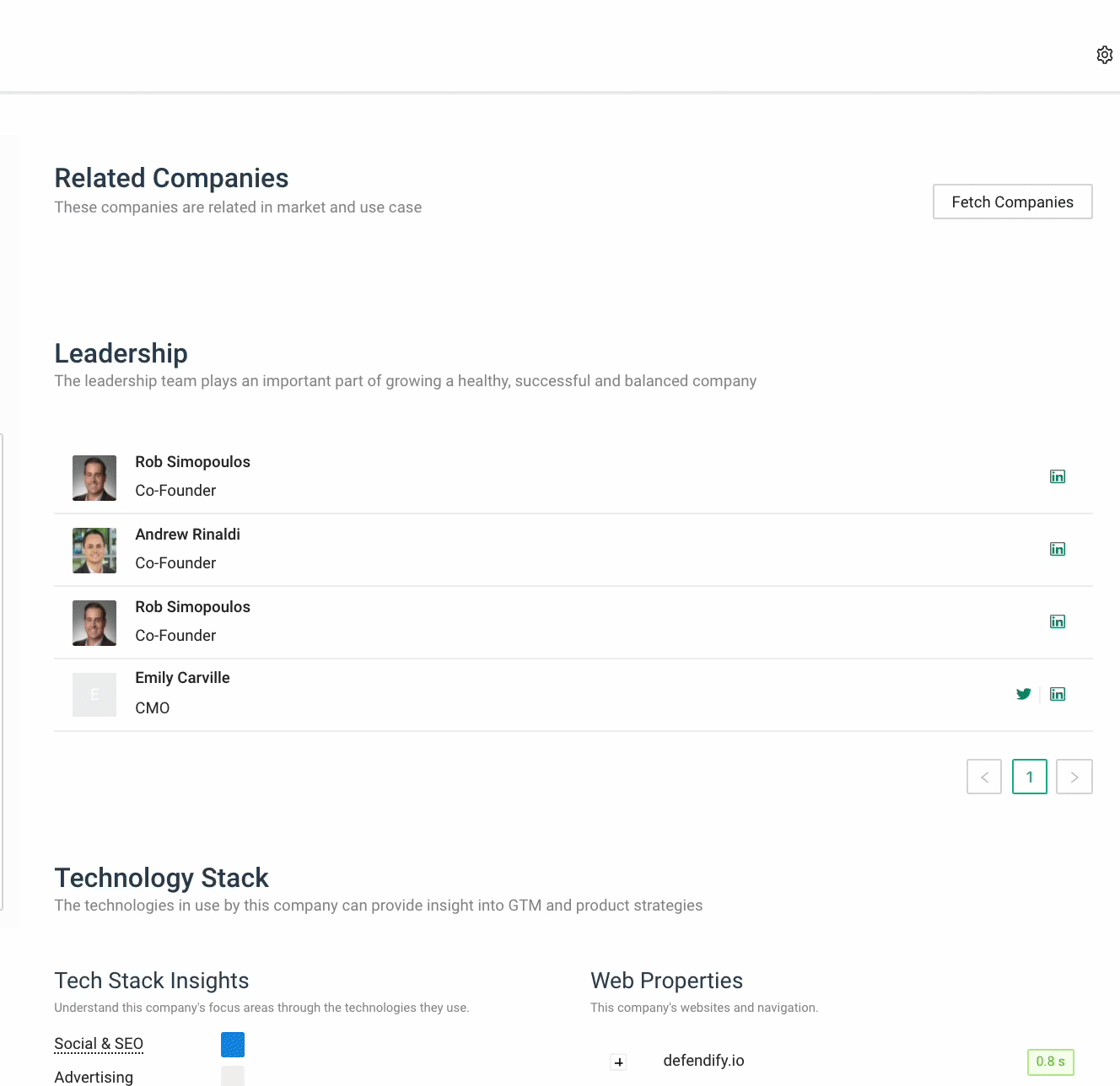 Leadership
The leadership team of any company will play a crucial role in its success and growth. Here you can find key roles, who holds them and links to their online social presence. Getting to know the key leaders at a company can provide more insight to how it's run, what they care about and who they are. Connecting and interacting with them through social media can have strong impacts on your relationship with them.

Technology Stack
Seeing what technologies a company has in use allows you to better understand how they are structured operationally as well as how they perceive their approach to doing business. This insight can be used as competitive research to mimic practices of market leaders, understand differentiation between your competitors, and even evaluate the sophistication and stage of a startup.
You will find information pertaining to their web properties, tech stack and website performance here.
Web Properties
Web properties pertain to how their website is structured and organized, suggesting what they prioritize and how they approach it. Use this as a jumping-off point to certain places in their website, looking for relevant information like a pricing page or a "solutions" page.
Tech Stack Insights
What tools a company uses can provide insight to its operational maturity. Knowing that a company uses a CRM suggests that they have an inside sales team. Seeing multiple cloud providers and CDNs indicate that performance is critical to them. The use of multiple analytics/optimization tools, paid advertising tracking and marketing automation will be indicative to the sophistication of their approach to marketing.
Tip - Hovering over a block in the stack will show you what services are used
In this section you will be able to track:
Social & SEO - Shows a focus around social and SEO to drive traffic
Advertising - Uses paid advertising technologies to drive traffic
Marketing & Chat - Technologies that help automate email and other messaging
Website SaaS - Services that show focus on enhanced user experience interacting with the website
B2B - Technologies that show a focus around B2B/Go-To-Market
Ecommerce - Has an ecommerce based Go-To-Market
Business Analytics - Focus around analytics (often seen in more mature companies)
Cloud Native - Tools often used to align to a company using more sophisticated cloud technologies
Page Load Speed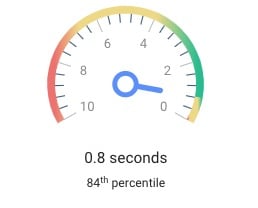 Website performance has been proven to lead to higher conversions for companies. In short, the faster the load time the more likely the sale. Here you can see how quickly the companies website takes to load.
Strength of Voice
You may already be familiar with share of voice, within Fuel we refer to it as Strength of Voice. We feel that a company's voice is more than just its volume, but also its ability to stay on message. Emphasizing key points that the market cares about, including its audience size identified through web traffic, social media and owned/earned content.
Web Traffic

Web Traffic -Based off of information gained from Alexa. A websites Alexa ranking is relative to its web traffic compared to others (shown at a global and US level)
Reach - Measures how many users with the Alexa extension saw this site (per million)
Page Views - Measures pages viewed by users with the Alexa extension (per million)
Links In - Provides insight as to how many other websites are linking to this company's
Owned Content
Internally generated content gives you insight to a company's messaging, what topics it prioritizes and how frequently it creates content. Content is listed chronologically with the ability to share it via your own social media channels.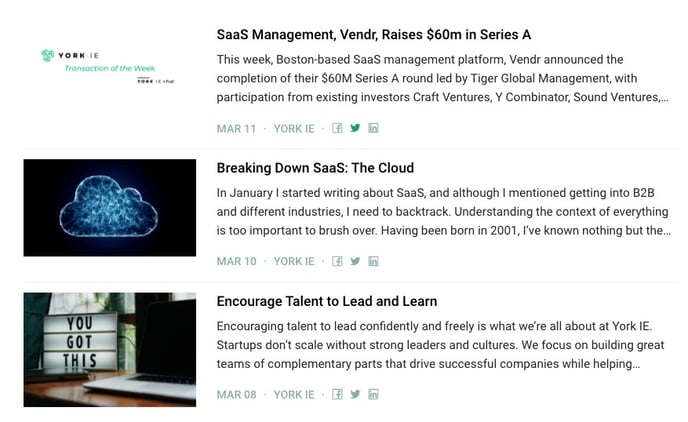 Earned Content
What others are saying about this company appears here. Earned content can indicate traction of this company's brand, market and network.
Podcasts featuring the company are listed separately from News for ease of access.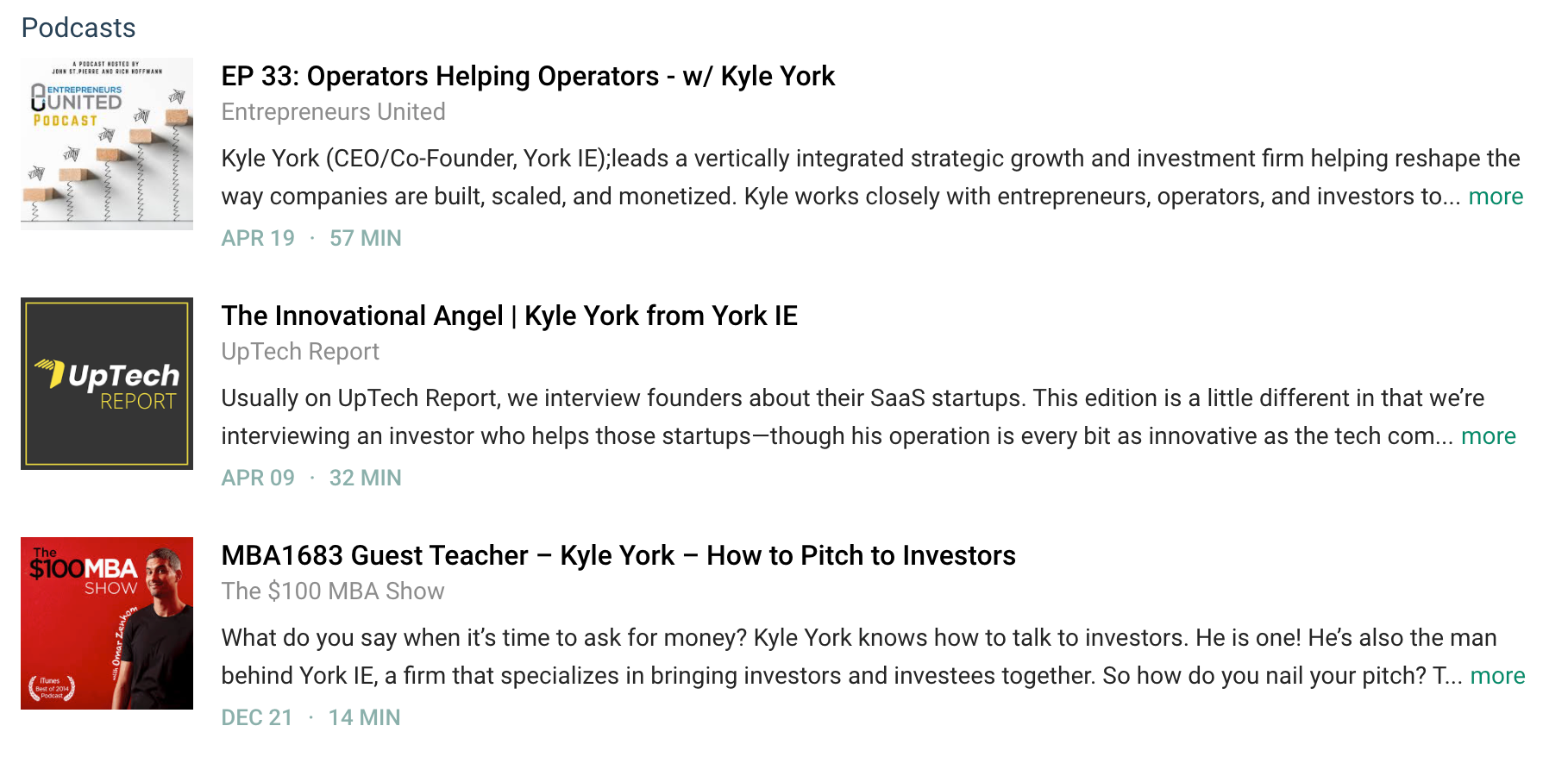 Funding
Seeing a company's funding rounds and investors can provide major insight. In this section you will find the number of rounds a company has raised, its total funding, and a breakdown of when, how much and by who for each round.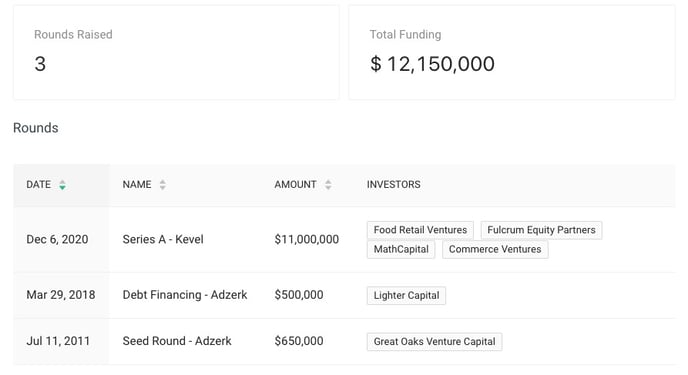 Further Exploration
More information can be learned about a company based on a number of other factors. Fuel provides you with several quick-search options to explore other related areas.

Careers - Job postings can be a quick way to assess how much growth an in what areas this company is planning for.
Pricing - A good way to understand packaging and starting/entry levels.
Diversity - Having a perspective on diversity can show healthy leadership and balance amongst an employee culture.
Sub-Processors - With the adoption of GDPR, an element of the related legal practices requires companies to publish sub-processors. These show cloud provider usage and provides insight into technical and legal maturity of a company.
Reviews - Gain additional perspective from others. Be sure to watch review dates to understand how this company has evolved.
Solutions - Often a way for this company to describe an end to end use case that articulates the business value their products provide and problems they solve for customers.
Customers - A company's flagship customers can give you an understanding of the ideal company and market fit.
CEO - Take a look at what you can find about the CEO. What's their brand presence? What makes them tick?