Customer support is available at all tiers of service for York IE Fuel users.
To request support, begin by visiting the Support and Documentation page via the Fuel platform. You can access it at anytime by clicking on the

question mark icon to the right of the search bar at the top of the page. Users will need to be logged in in order to access it.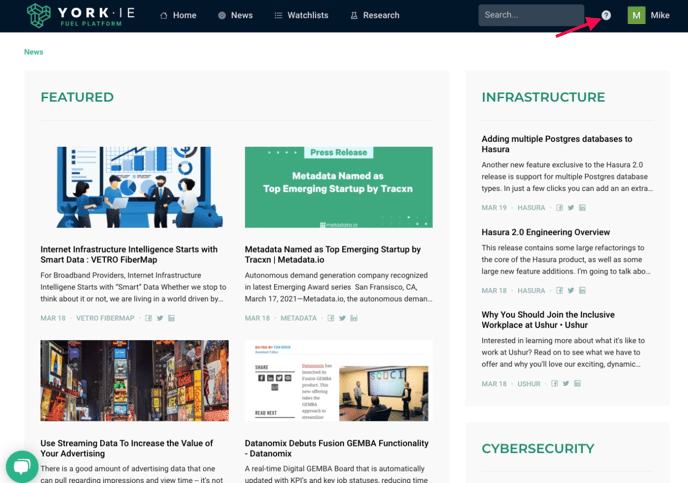 Here you will be able to quickly access the Fuel Knowledge Base as well as contact support. Depending on your tier of service different support options may be made available to you. All users will have access to email and chat support, regardless of tier.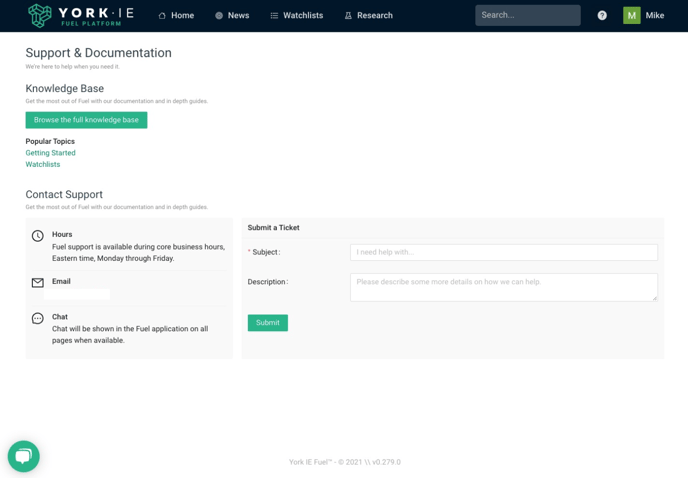 Support is available Monday through Friday during core business hours (Eastern time).
Types of Support
Form
The quickest and easiest way to submit a request support is by way of the form on the Support and Documentation page. Simply fill it out with what you need help with and a support representative will be in contact shortly via the email on file associated with your account.
Email
Contacting support via email is a great option if you have screen shots or files to include with your support request. You will find the email to contact support listed on the Fuel Support page. Please use the email associated with your account whenever possible in order to quickly verify your account.
Chat

Chat (when available) can be initiated by clicking the chat icon on any page within the Fuel platform. Simply type your question and you will be connected to a support representative who will assist.