Fuel News, home to the best content for operators by operators, publishes the latest ideas, insights and trends from early-stage B2B SaaS leaders, including original content from York IE's network of analysts, thought leaders and advisors
NThe news section within Fuel is comprised of several key markets including Infrastructure, Cybersecurity, Data & AI, Applications and Growth. Each section provides a Market Pulse - a snapshot into what is happening with the option to dig deeper. These Market Pulses include related news, current market happenings and company updates. On the main news dashboard you will find featured news articles, as well as top stories by market.

Want to share an article with your networks? Just click on the social icon of choice and share!
News Article Snapshot
Clicking on any news article will take you to a summary page, where you will find keywords, bulleted key points, social ideas and more information on the company.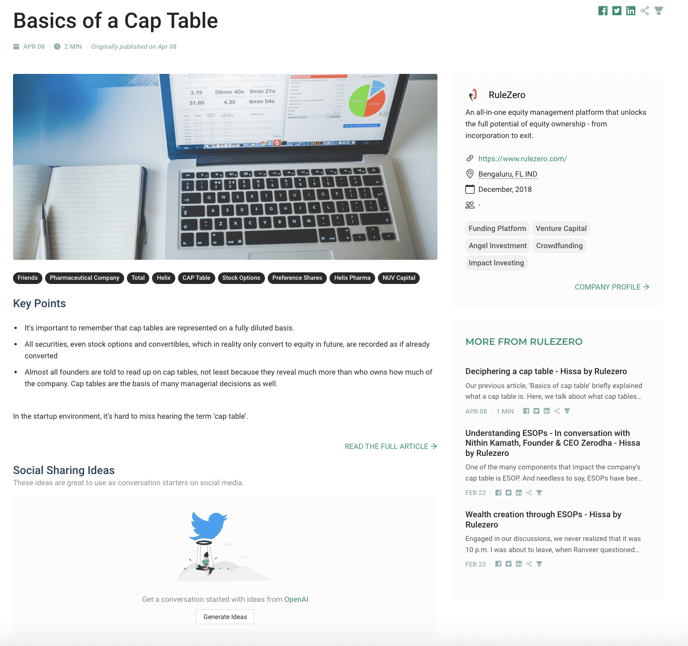 Keywords
Keywords found within the article are displayed and clickable, allowing you to research further based on those selected.
Key Points
A bulleted list of notable takeaways, generated by the York IE editorial team, is provided for the article, allowing you to quickly surmise what is happening
Social Ideas
Using advanced machine learning, Fuel will analyze the article and suggest possible prompts to be used within a social media post.
Note: Social Ideas are available to paid tiers of service.
Company Information
On the sidebar you will find more information about the company in question from the article. At the top you'll be presented with a company summary to what they do/who they are, a link to their website, geographic location, when they were founded and how big their company is employee wise. You can also quickly get to their company profile page for a more in depth look at who they are as a company.
Below you can find several recent news articles related to the company.